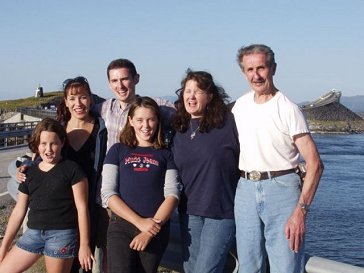 Joan's American descendents visit her birth city, Kristiansund 2003.

Johanne Bergh's Journey
Our paternal Grandmother Joan was born Johanne Bergh on 27 Oct 1903 in Kristiansund, Norway.
Grandma Joan was the second of four children born to Ole Bergh (pronounced Ooh-la) , a stone mason and winter fisherman, and Anna (maiden name Magerholm). She had an older brother, Oscar, and younger sister and brother, Astrid and Olaf.
Prior to leaving Norway, she was still living with her parents in her birth city of Kristiansund. Kristiansund is built on four islands, connected by bridges, and located on the Eastern coast of Norway, just southeast of Trondheim. It should NOT to be confused with the city of Kristiansand, which is located on the Southern tip of Norway.
According to Joan's still-living Norwegian sisters-in-law, Edith and Tordis Bergh, Joan passed her entrance examination to the Norwegian University and learned to speak (in addition to her native Norwegian tongue) English, French, German, Italian, and some Russian.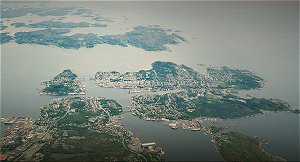 Joan Bergh was living in Kristiansund before coming to the USA.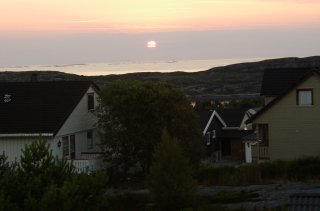 Midnight sun, 2:00 A.M. view of sun over Atlantic Ocean, Kristiansund 2003.
Joan's Aunt Nicoline "Lina" (her mother's sister) had emigrated to Seattle years earlier and owned a shop that ironed clothes. Lina invited Joan to come to America to work for her, and Joan accepted the invitation!
In August 1923, two months before her 20th birthday, Joan left Kristiansund enroute to Kristiania (later named Oslo) for boat passage to America.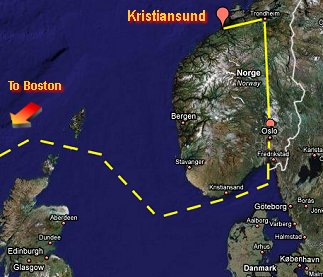 Joan's trip to Kristiania (Oslo), then on to Boston.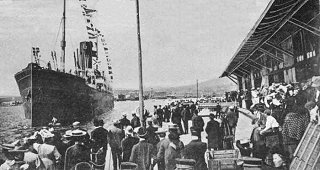 Joan left Norway in 1923 from this dock in Kristiania (Oslo).
We are not sure how she traveled to Kristiania (Oslo), however, the most likely route would have been to take a ferry boat from Kristiansund to Trondheim, and then travel by train from Trondheim to Kristiania (Oslo).
On Thursday, 23 August 1923, Grandma Joan boarded the ship, the S.S. Hellig Olav, in Kristiania (Oslo), with a 3rd class passenger ticket she purchased herself. The ship originated in Copenhagen, Denmark, was scheduled to stop in Kristiania (Oslo), Kristiansand (Southern Norway), Boston, and ended it's service route in New York.
The Trans-Atlantic crossing took eleven days before arriving at her destination port of Boston.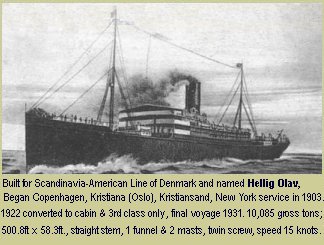 Joan's ship, "S.S. Hellig Olav".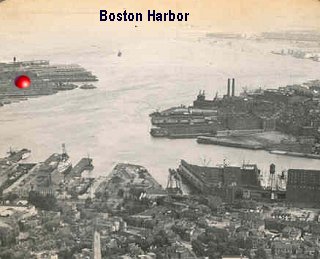 Where Grandma Joan's Ship docked in Boston Harbor, 1923.
On Monday, 3 September 1923, Joan's ship pulled into it's berth at the Hoosac Wharves, Charlestown in Boston Harbor.
We are not clear how Joan traveled on to Seattle, Washington. However, once established there, Joan's sisters-in-law recall she went to a commercial school and later secured a job as a clerk. She soon became an active member of the Pentecostalist community.
We don't know how or when they met (perhaps within the Pentecostalist community), but on 8 May 1925, Grandma Joan married Grandpa Lester Reinhart Schwald in Bellingham, Washington.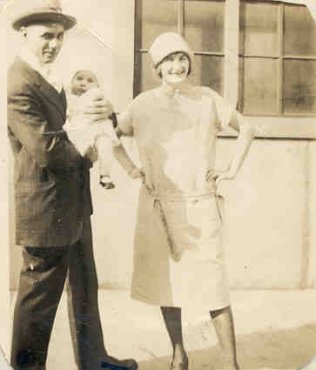 Joan with uncle and daughter, Betty, circa 1926.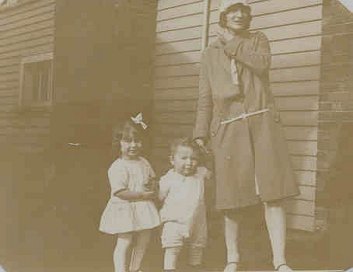 Joan with daughter and son, Betty and Lester Oscar "Bob", abt. April 1928.
Eleven months after their marriage, Joan gave birth to her first child, Betty Anne in April 1926, in Seattle. Joan's sisters-in-law told us her uncle (her father's brother), name unknown, had left Norway and settled in Seattle (and eventually died there). The above picture shows Grandma Joan, daughter, Betty, and the Uncle, in Washington (city unknown).
Joan and Lester's second child, Lester Oscar "Bob" Schwald was born the following year in 1927, in Seattle. He was given the middle name of Oscar as Grandma Joan was very fond of her brother, Oscar, who stayed in Norway.
Tragically, soon after the above picture of Grandma Joan and her two children was taken (about April 1928), she rapidly developed spinal meningitis (her Norwegian sisters-in-law called it "brain fever") and died in June 1928. She was just twenty-four years old, and had been in America for less than five years. She was buried in Mt. Pleasant Cemetery, Seattle, Washington.
Joan's brother, Oscar, never lost contact with his favorite sister's children. He continued writing to both of them up until the time of his death of a heart attack in 1973 in Molde, Norway.