Rancho San Rafael
In 1784 our maternal 4th Great Grandfather Jose Maria Verdugo, a Corporal in charge of Mission San Gabriel's guards, was one of three Spanish soldiers who first petitioned Alta Californian Governor Pedro Fages for land to graze their livestock. The soldiers and Fages had been members of Portola's 1769 Expedition* to occupy Alta California. *(see
Feature Article,
Verdugo To California
)
Many countries followed this ancient custom of rewarding land or land privileges to soldiers in exchange for military service.
On October 20, 1784 Governor Fages granted Jose Maria a temporary permit for the land he desired, pending further instructions from Commandant General Jacobo de Ugarte.
Map of Rancho San Rafael
Jose Maria chose 36,403.32 acres of land, located north of Pueblo de Los Angeles and nestled between Missions San Fernando Rey and San Gabriel (the present day areas known as Glendale, Garvanza-now Highland Park, Eagle Rock, York Valley, Casa Verdugo, and much of Burbank).
He named the land La Zanja (the ditch), which later became known as the Rancho de los Verdugos or Rancho San Rafael.

Rancho San Rafael
Conditional Provisional Land Grants
In 1786 General Ugarte authorized the issuance of conditional provisional land grants; whereby land title was retained by the Spanish crown, but each owner had exclusive use of the land.
A rancho land grant was issued with specific conditions, including:
- No person might have more than three square leagues of land (about 7 1/2 miles in each direction);
- The rancho must be beyond the four-square-league limits of an existing presidio or pueblo (about 10 1/2 miles in each direction);
- The grant could not encroach upon existing mission properties or lands, nor could it be near existing Indian rancherias (camps);
- One stone house must be built and occupied upon the land;
- Wheat must be grown for the community;
- At least two thousand head of cattle must be raised; and
- Two vaqueros (cowboys) must ride herd continuously on the cattle and horses.
Corporal Verdugo, still active with the Royal Army and unable to settle upon his newly acquired property, sent his brother Mariano, who had retired from the army, in his stead. Mariano built a crude house of sticks, cultivated a garden, and laid out a vineyard.
Rancho San Rafael's Early Years
The first years at the rancho were profitable; surplus wheat was sold in the pueblo, the extensive vineyard yielded large quantities of wine and aguardiente (brandy), and oak, alder, and willow wood was cut and sold to the settlers at Pueblo de Los Angeles.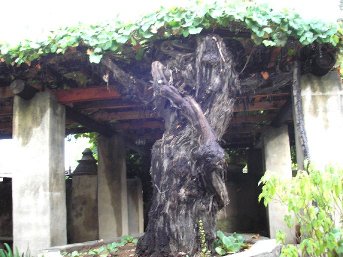 Very Old Grape Vine at Mission San Gabriel
Mariano Verdugo had brought to Alta California in the 1769 expedition grape vine cuttings from Loreto (previously planted there by the Jesuit fathers) which he planted at the San Diego mission.
In a few years the Franciscan fathers were able to make from the fruit of these vines the wine used in the mass.
Cuttings were sent to other missions and all the mission vineyards were planted from these vines of San Diego. This is the origin in California of the famous Mission grape.
"The grape cultivated at the missions of California is the same as that of the (Portuguese) Island of Madeira, famous for the richness and quality of it's grapes and wines."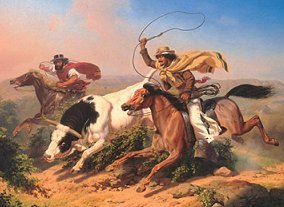 Rancho Vaqueros (Cowboys)
On 23 May 1788 Governor Fages approved Jose Maria's petition for a livestock brand to protect his stock of at least 150 head of breeding cattle (the minimum requirement of cattle needed in order to receive a brand). Anything less than that amount gained approval for a cheek mark, but not a brand.
We have found two different descriptions of his brand. One describes it as a "distinctive type shaped somewhat like a capital "
I
" in medieval script", the other describing it as a "S slant bar S."
On December 29, 1795 Governor Diego de Borica decreed that unless rancheros keep sheep they would have to live at the pueblos.
Retirement To Rancho San Rafael
Two years later, on December 4, 1797, after receiving military orders for reassignment, Great Grandpa Jose Maria made a special request to Governor Borica seeking permission to retire and settle himself and his family at his rancho (provisional law would have required him to reside within a pueblo if no longer able to perform his duties).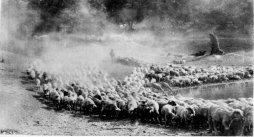 Sheep On Rancho San Rafael
Jose Maria explained to Borica that he expected to support himself and his family upon the "fruits" of the rancho (pointing out that he had 200 head of cattle, an equal number of horses, and 150 head of sheep) with the help of his brother Mariano and a brother-in-law who would join him in the future.
On January 12, 1798, Governor Borica wrote to Jose Maria, referring to him as "the Retired Corporal of the San Diego Company of his Majesty the King", authorizing his retirement to La Zanja and confirming title to it. Jose Maria received an honorable discharge the following year.
In 1799 prior to moving to the rancho, Jose Maria wrote to Commandant Lieutenant Grajero explaining that his brother-in-law would not be assisting him as expected. Expressing "a great desire for company", Jose Maria requested permission for Antonio Rosas, a citizen of Pueblo de Los Angeles, to settle on the rancho with him.
Jose Maria built and occupied three adobe houses by the end of 1799 with the help of his brother, friends, and a few Indians.
The garden and vineyards were enlarged and irrigation was provided by digging a ditch from the canada to the house, a distance of four hundred varas (about the length of 3 1/2 football fields). The saca de aqua (water dam) on the Rio Porciuncula was enlarged, and the number of fields under cultivation were increased.
Wood for houses, corrals, fences, and the fireplaces was obtained from the heavily wooded hills and valleys to the north of the low adobe ranch houses.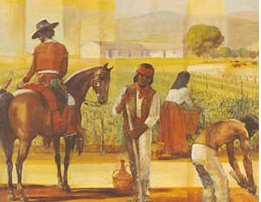 Rancho San Rafael Is Thriving
One of Great Grandpa Jose Maria's favorite pastimes, recounts Ann Denis, a docent with The Days of the Verdugo Association, "was to ride for miles and miles to every corner of his property. He used to say that every true Californian's home is in the saddle."
From January to July 1801 Great Grandpa Jose Maria's Rancho San Rafael prospered, as evident from correspondence in which he sold butter to the Royal Presidio of San Diego and offered 200 fanegas (over 500 bushels) of wheat to export to San Blas in Baja California.
On July 28, 1817 Jose Maria reported to Governor Sola that he possessed on Rancho San Rafael:
- 1800 head of large stock;
- 100 head of small stock;
- 800 head of wild horses;
- 70 broken or tame horses;
- 20 head of broken or tame mules;
- 50 head of wild mules.
(By 1929 these numbers had doubled)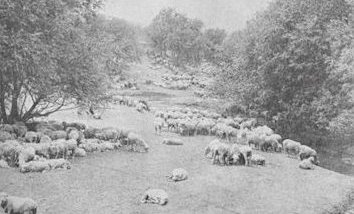 Sheep On Rancho San Rafael
The First Rancho San Rafael Land Disputes
The First Dispute
The first Rancho San Rafael land dispute occurred in 1814 with Mission San Gabriel to the east.
A new mission priest, Joaquin Pascual Nuez, not knowing the mission's land boundaries, arbitrarily ordered mission mayordomo (overseer of mission operations) Alanis to replace the mission's sheep rancho on Jose Maria's land. Jose Maria complained to Governor Arrillaga, who ordered the mission remove the sheep at once.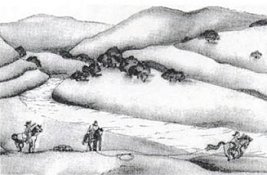 Measuring Rancho San Rafael Using A 50 ft. Rope
The Second Dispute
A second land dispute occurred in September of 1817 with Mission San Fernando Rey to the west.
Mission Father Pedro Munoz petitioned Governor Sola for a land grant, claiming lands which infringed on Rancho San Rafael. Jose Maria complained to Governor Sola, who ordered the military commissioner of the Pueblo of Los Angeles, Guillermo Cota, to establish the boundaries of land in dispute.
Cota, in company with the alcalde (judge), Jose Polanco, and two regidores (council members), Nicolas Alanis and Bernardo Higuera, rode to the land and there laid out the boundaries, using a 50 foot rope and marking alder trees, hollow oaks, and mounds of stones.
The Third Dispute
A third land dispute occurred in 1829, again with Mission San Fernando Rey.
The mission cattle entered the unfenced Rancho San Rafael, and upon request for their removal during the rancho's annual rodeo, the mayordomo of the mission, believing the land belonged to the mission, refused to remove the stock.
Furthermore, crops of Indian corn and beans were grown and harvested, and a vineyard was planted on the rancho without Jose Maria's knowledge or consent.
Grandpa Jose appealed to Governor Jose Echeandia, who, after an investigation, ordered the mission to withdraw from the major part of the disputed territory, although a small portion of what Great Grandpa Jose Maria had claimed was given to the mission.
Rancho San Rafael Is Divided
On April 12, 1831 Great Grandpa Jose Maria Verdugo died on his beloved Rancho San Rafael, having been weak and bedridden for the last year of his life. Rancho San Rafael's stock now included 5,000 cattle and 500 horses and mares.
In his will, drawn up three years previously, he bequeathed to his children and grandchildren various quantities of cattle, horses, mules, and equipment.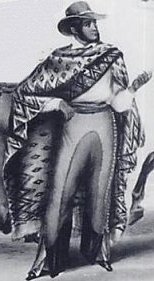 1840 Drawing Intended to Depict Julio
To Catalina, his favorite daughter, he left:
- cattle, horses, sheep;
- the granary;
- six and a half yoke of oxen;
- the fierro (branding iron), mark, and venta (sale-brand which was stamped
on an animal's shoulder as a bill of sale);
- the vineyard; and
- one of the adobe houses with its' furniture.
To Julio he bequeathed:
- pack saddles;
- a large still;
- pistols;
- shotguns;
- aguardiente;
- cattle, horses; and
- a small crucifix.
The orchard, consisting of figs, peaches, apples, oranges, limes, and lemons, was divided between the two.
In concluding his will, Jose Maria disposed of the rancho by stating: "I declare that it is my will that the Rancho which the Nation granted to me, called San Rafael, be left to my son Julio and to Catalina, in order that they may enjoy the same with the blessing of God."
Catalina's Half of Rancho San Rafael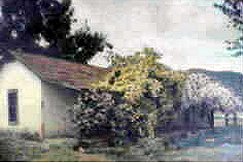 Catalina's Adobe ca. Early 1900's
Eventually, by mutual agreement, Catalina would choose the northern portion of the rancho for her own, which was mostly mountainous terrain with numerous canyons and streams (called La Canada or The Mountain Valley by her father).
Although, not conducive to farming, her land was abounded with natural beauty. Wild willow, sycamore and oak trees were abundant. A large population of wild bears lived in the local canyons. Travelers had to be escorted by vaqueros, firing guns and waving serapes to keep the intimidating creatures away.
In 1833 Catalina Verdugo, who was totally blind (the outcome from a childhood case of smallpox) and never married, was living in the old family homestead. She spent a good part of her life under the care of various nephews. In 1860 Julio's son, Teodoro, had assumed the duty of caring for Catalina, and built her an adobe on her land.
Julio's Half of Rancho San Rafael
Great Grandpa Julio assumed the mantle of his father as patriarch. A handwritten map drawn around 1842 shows only the old Verdugo family adobe (located in the northern portion of the rancho at the southern base of the Verdugo Mountains ) on Rancho San Rafael.
It is quite probable that Julio and his family lived with Catalina in the family homestead up until 1843, at which time Julio built his own family home in his chosen southern portion of the rancho.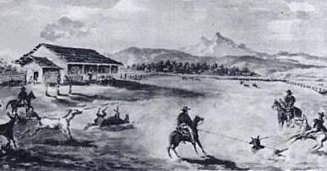 A Typical Alta California Cattle Ranch
Julio's many sons assisted with the rancho's cattle, horses, sheep, and mules, which roamed freely throughout the entire rancho until Julio and Catalina legally divided it in 1861.
Julio constructed several houses for the older sons and other small huts about his vast acreage to serve as temporary homes while working the fields far from the main house.
Many historian's refer to Julio's Rancho San Rafael as a beautiful "Garden of Eden" having a vineyard and orchard with crops of corn, wheat, barley, beans, pumpkins, melons, squashes, tomatoes, and cabbage, to name a few.
Julio is rumored to have planted Alta California's first garbanzo beans in 1833 on the southeast hills of Rancho San Rafael, an area for which the present day town of Garvanza was named.
Julio was also very active at this time with area politics.
The Works of Hubert Howe Bancroft
list Julio as being an auxillary mayor of Los Angeles in 1831 and 1833, as well as a judge for the ranchos in 1840.
Mexico's Independence Affects Rancho San Rafael
Mexico won independence from Spain in 1821, and word of it reached Alta California in 1822.
While land ownership had to be reestablished and reconfirmed during this period, Great Grandpa Jose Maria Verdugo saw very few changes under the new government during the remainder of his lifetime. However, beginning in 1834 Alta California would experience new policies under Mexican rule which would soon prove to be the catalysts that changed the lives of the Californios forever.
Mexico's open-door policy toward foreigner's differed from Spain's restricted one. Full-scale trading was now encouraged with foreigners, and Julio Verdugo began shipping cattle hides and tallow to New England ports such as New York or Boston.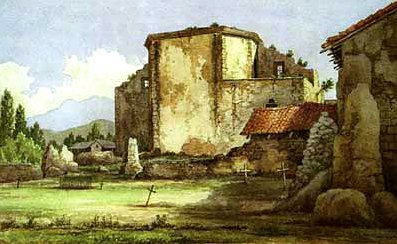 The Missions Fell Into Ruin
In 1835 Mexico began to "secularize" the missions and distributed mission lands, seeds, and farming tools among the "liberated" mission Indians, although very few Indians stayed and cultivated the land given to them.
Without mission Indians supplying the labor, mission industries gradually stopped, orchards, vineyards and fields succumbed to weeds, olive orchards were cut down for firewood, and missions' buildings fell into ruin.
The Verdugos were mainly ranchers and now had to deal directly with foreign Anglo merchants for products they normally acquired from the missions.
Spain had selectively limited the issuance of land grants and retained land ownership. Mexican governors were now encouraged to make more grants for individual ranchos, giving white Californian foreigners (if naturalized and converted to Catholicism) large grants of missions' lands, and these grants were to be outright (50 grants issued prior to mission dismantlement and 600 issued afterwards).
With the new land grants came land disputes, and the Verdugos had to hire lawyers to fight for the preservation of Rancho San Rafael's boundaries. However, these would later prove to be minor compared to those they would face in the near future.
In 1843 the Mexican government, claiming Great Grandpa Julio was not using portions of Rancho San Rafael to graze his herds, granted the north-northeastern portion of the rancho to Ignacio Coronel who called it La Canada atras de los Verdugos (the glen behind the Verdugo Ranch). Julio protested and swore he would reclaim the land some day.
In 1844 the Mexican government, using the same reasoning as before, granted a 1,200 acres parcel of the south-southeastern portion of the rancho (located at present-day Glassell Park and Mt. Washington) to Jose Maria Aguilar. This portion of the Verdugo land was called Canada de los Nogales (valley of the walnut trees), which was patented by the U.S. in 1882.
In 1844 Alta Californians revolted against the unpopular, tyrannical, Mexico-City-appointed governor Manuel Micheltorena and his army of ex-convicts (forcing him to withdraw to Mexico), and in 1845 replaced him with Californian Pio Pico as civil governor, with his capital established at Los Angeles.
By 1846 the population now had less than 100,000 Indians and some 14,000 other permanent residents, about 2,500 of which were "foreigners" (whites of non-Hispanic descent), with 2,000 of these immigrating from the United States since 1840.
Trouble was on the horizon.
The Mexican-American War Comes To Rancho San Rafael
In February 1846 the United States annexed Texas, and two months later, under the leadership of Santa Anna, Mexican troops responded by attacking American troops along Texas' southern border. The Mexican-American War had begun.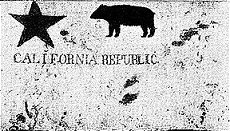 Replica Of The First "Bear Flag"
On June 15, 1846, even before hearing news about the war, some thirty settlers (mostly American citizens) staged a revolt, seized the small Mexican garrison in Sonoma, Alta California (north of Monterey), and raised the "Bear Flag" of the California Republic.
A week later they transferred control over to U.S. Lt. Colonel John C. Fremont, who had recently re-entered Alta California with 64 men after being forced out earlier by Mexican authorities suspicious of his presence. U.S. military reinforcements arrived soon after.
Ultimately American troops captured San Francisco, San Diego and Los Angeles in August 1846 (Pio Pico had fled to Mexico). Two months later Andres Pico, governor Pico's brother, led a guerrilla force which drove the Americans out of Los Angeles.
On January 8 after a brief skirmish at the San Gabriel River, leader General Jose Flores and the Californios made their final stand at the Los Angeles River, but withdrew after light artillery fire to Verdugo Canyon on Rancho San Rafael.
On January 9 General Flores held a council, passed the responsibility of Chief of the National Forces of California to General Andres Pico, and then fled to Mexico, fearing American Commodore Stockton would execute him if captured.
On January 10 the Americans re-captured Los Angeles without firing a shot.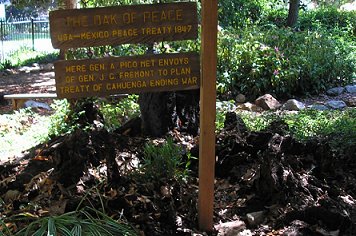 Remnants Of The "Oak Of Peace" As It Looks Today
On January 11 Lt. Colonel Fremont, now camped at Mission San Fernando, sent captured scout, Jesus Pico (cousin of General Pico), as an envoy to the General's camp. Here the terms of capitulation were negotiated under a large oak tree (later called the
Oak of Peace
) on the future site of Catalina Verdugo's Adobe.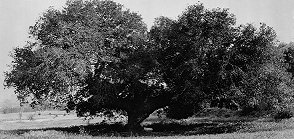 "Oak Of Peace" On The Catalina Verdugo Adobe Property
On January 13, 1847, General Andres Pico and Fremont met near the north end of Cahuenga Pass at Campo de Cahuenga, once part of Mariano Verdugo's Rancho Cahuenga (currently located on Lankershim Blvd. across the street from Universal Studios, North Hollywood), and signed the
Treaty of Cahuenga
, thus ending the war in California.
The Treaty of Guadalupe Hidalgo, signed on February 2, 1848 at Guadalupe Hidalgo, Mexico, brought an official end to the Mexican-American War.
The California Gold Rush and Prosperity For Rancho San Rafael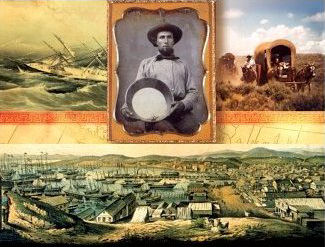 1849 Gold Rush - They Came to California By Land And Sea
On January 24, 1848 gold was discovered at John Sutter's mill on the American River in Coloma, California (near Sacramento). The gold discovery was declared on the streets of San Francisco in May 1848 and by President James K. Polk in his State of the Union address on Dec. 5, 1848. These declarations triggered the California Gold Rush of 1849.
People poured into California from all over the world. By the end of 1849 there was an estimated non-native population of 100,000, of which 40,000 were miners. San Francisco grew the most, from a population of 600 in 1848 to about 25,000 in 1849.
With the influx of people in 1849 came the need for food. Cattle prices rose immediately in response to the unprecedented demand, and continued to rise for nearly seven years, fetching as much as seventy-five dollars a head. Rancho San Rafael capitalized on this opportunity and began driving their cattle to market to be sold for beef.
This was a lawless time, and many disreputable individuals expelled from the northern mines left on the only road south, which happened to run through Rancho San Rafael. Despite having lost livestock to cattle rustlers and horse thieves, the Verdugos prospered.
Julio Prospered During The Gold Rush
Great Grandpa Julio spent his great cattle profits on gracious living, which included fandangos and rodeos. A favorite rodeo event on Rancho San Rafael was the wild bear and bull fight. Vaqueros would ride into the Verdugo Hills and lasso a grizzly bear, drag him to a clearing near the rancho house, and tie him to the lasso of a waiting long-horned wild bull. Here, unable to separate, they would fight to the death, usually with the bull falling victim to the bear.
Other profits would be spent on fancy clothes, silver ornamented saddles, bridles, coats and breeches, and gambling, and overstocking the rancho.
Julio had an eye for the finer things in life, having been described as a flashy dresser and a lover of fine jewelry.
On election days, mounted on a beautiful horse, Julio would gallop into the pueblo of Los Angeles with a black silk handkerchief over his head and colorful handkerchief about his neck.
He'd wear a low-crowned hat with a wide brim, and a jacket of heavy black cloth, sometimes velvet, with rows of gold buttons and fancy stitches. His trousers were spit to the knees on the side, with fancy stitches to match his coat.
Following Julio would be his thirteen sons decked out in their fancy velvet clothes, ornamented with decorative braid and silver buttons flashing in the sunlight.
Julio's prosperity, however, would be brief, and his troubles began to escalate.
Portions of Rancho San Rafael Are Sold Or Traded
On November 13 1849 the California State Constitution was approved, and on September 9, 1850 California was admitted into the Union as the 31st state.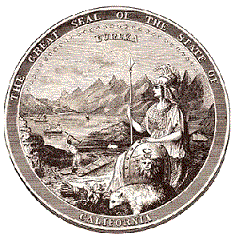 California State Seal
At the conclusion of the Mexican-American War, the Treaty of Guadalupe Hidalgo promised to respect Mexican land titles. The U.S. Senate, however, withdrew this promise when ratifying the treaty.
Once again the Julio and Catalina Verdugo had to prove Rancho San Rafael's ownership, now before the Congress-created Board of Land Commissioners (claim filed in 1852 under
Julio Verdugo, et al.
).
Original documents had to be found, copied, notarized, and translated into english to prepare a legal brief to present to the Board. Julio and Catalina incurred the crippling costs of lawyers, translators, depositions, a precise survey of the rancho (as demanded by American law), and the navigation of a new legal sea.
As the land claims dragged through the courts, in time-honored frontier tradition, newcomers squatted on what they regarded as vacant public land, and sought legal establishment of their claims. Rancho owners incurred more costs to fight these legal battles.
There was almost constant physical warfare between squatters and the rancheros. Murders, mob violence, lynching, and intimidations of all sorts on the part of the Anglo-American squatters were common occurrences.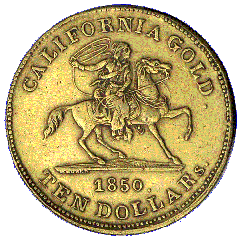 The Verdugos Were Burdened With Land Taxes
Julio and Catalina faced yet another heavy burden under California statehood, - land taxes, having to pay annual state and county property taxes.
During the 1850's the property tax rates were between 8-10 cents per assessed 100 dollars valuations. Failure to pay placed the property in foreclosure for deliquency.
In 1855 Great Grandpa Julio traded 671 acres in the southern portion of Rancho San Rafael (later named Santa Eulalia Ranch, Tropico, and Atwater), near the Los Angeles River, to attorney Joseph Lancaster Brent in exchange for legal services.
In the same year Grandpa Julio was forced to sell a 2,700 acres parcel of the rancho, along the Los Angeles River, to Lewis Granger, reportedly to raise money to pay taxes. However, with lengthy land ownership litigation and no clear land title, the land sold for as little as 25 to 50 cents an acre.
In 1857, Julio made good his promise to reclaim the land taken from him, and traded a 4,600-acre parcel on the west side of the rancho (part of present-day Burbank) to attorney Jonathan R. Scott in exchange for Rancho La Canada, which Scott had purchased from Ignacio Coronel.
On June 4, 1857 the U.S. government confirmed Julio and Catalina's claim to Rancho San Rafael after a costly five-year legal battle. However, final confirmation and a patent would not be issued until the original survey had stood uncontested for twelve years.
Great Grandpa Julio Mortgages Rancho San Rafael
By 1856 cattle prices had fallen to $16-$18 dollars a head, mainly due to out-of-state cattle (10,000 head arriving each year) and the growth of the sheep industry in California.
Great Grandpa Julio was able to weather the financial burdens of years of legal battles to retain rancho ownership, land taxes, and falling cattle prices up until the end of 1860. At this time one Santa Barbara ranchero wrote, "Everybody ... is broke, not a dollar to be seen... Cattle can be bought at any price. Real estate is not worth anything..."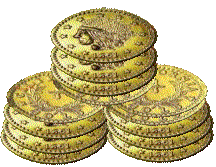 Julio Mortgages Rancho San Rafael
Grandpa Julio needed to enlarge his adobe home, buy seed, order supplies and pay taxes. With little cash available and no local banks in existence, on December 6, 1860 he entered into an agreement with Los Angeles merchant Jacob Elias to mortgage Rancho San Rafael for a loan of $3,445.34, and signed the contract on January 2, 1861. The terms of the loan were for 3 percent interest, compounded monthly, payable quarterly, for a duration of two years.
It is highly probable that Julio did not fully understand the Anglo's terms of this loan. Prior Spanish and Mexican business practices in Alta California between Californios had consisted of an honorable promise and a handshake.
Perhaps precipitated by Julio's loan, on April 13,1861 Julio and Catalina legally divided Rancho San Rafael, in order to confirm their verbal division made in 1843, when Julio moved to the southern portion and built his houses.
In 1864 Catalina quit-claimed 100 acres of her property to Julio's daughter, Rafaela Verdugo de Sepulveda.
In 1866 Julio sold additional parcels of Rancho San Rafael to Jessie D. Hunter, who had purchased the Canada de los Nogales from Jose Maria Aguilar.
Julio could not have foreseen that his loan from Jacob Elias would deal the final crushing blow to his beloved Rancho San Rafael.
Floods And Drought Devastate Rancho San Rafael
According to
The Cattle on a Thousand Hills
, "A succession of such disastrous seasons each one worse than its predecessor, began in 1862 and continued until the fall of 1865. Never before or since has California suffered as it suffered during those dry years."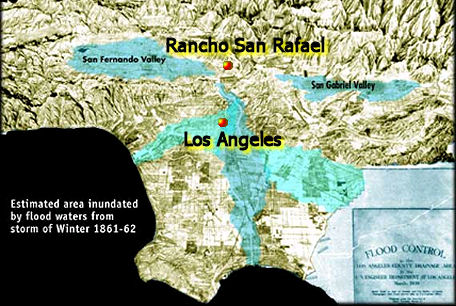 Flooded Areas 1861-1862
From December 1861 and continuing into 1862, Rancho San Rafael experienced a great flood in which much of it's cattle were lost.
Although the rains produced luxuriant, abundant pastures, which in turn increased the rancho's cattle herds, the already glutted marked could not absorb the surplus cattle, and cattle prices fell to almost pre-Gold Rush levels.
Two years of unparalleled drought followed the great flood of 1861-62. Cattle prices fell even lower, with cattle being slaughtered for the minimal value of their hides and horns.
In 1863 millions of grasshoppers swept across California, devouring precious grasslands. That same year Los Angeles experienced a smallpox epidemic which killed many and brought business to a standstill.
It is estimated that Los Angeles County lost one half to three fourths of it's cattle. Their value was now determined by the value of their hides, even when offered for sale at $1.50-$2.00 a head, no one would buy. One newspaper reported a herd in Santa Barbara selling for $.38 a head. In addition, the drought had left range lands barren, and values fell, some being assessed at ten cents an acre.
Great Grandpa Julio suffered along with the rest of the rancheros, losing most of his livestock and livelihood.
As if things could not get any worse for Julio, amongst all of these disasters, the two-year mortgage note on Rancho San Rafael came due, with interest.
Jacob Elias Forecloses On Rancho San Rafael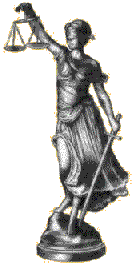 Jacob Elias Awarded $58,750
Great Grandpa Julio's severe losses in California's ongoing natural disasters prevented him from paying back the loan when it became due in January 1863. Therefore, Jacob Elias instituted a foreclosure action on Ranchos San Rafael and La Canada.
In 1864 the case was tried by the Court, without jury, who awarded Mr. Elias $10,795 (the amount of the loan plus interest) and the right to force a foreclosure sale on Rancho La Canada and any portion of the southern half of Rancho San Rafael, excluding a $5,000 homestead for Julio.
Mr. Elias requested a new trial, arguing he should get all of Rancho San Rafael because at the time of the loan:
1) Julio had described the entire Rancho San Rafael as collateral - not merely the southern portion;
2) Julio was a co-owner of the entire rancho, which had not yet been legally divided;
3) As a co-owner of the entire rancho, Julio could not carve out a separate homestead from it; and
4) Francisco P. Ramirez and Fernando Sepulveda (husband of Catalina's niece, Rafaela Verdugo)
set up title to several portions of land which were part of Rancho San Rafael's mortgage, having no
rights to these lands mentioned in the foreclosure decree.
When Mr. Elias' request for a new trial was denied, he appealed to the State Supreme Court in 1865 (case
Jacob Elias v. Julio Verdugo, Maria Jesus Verdugo, his wife, Francisco P. Ramirez, and Fernando Sepulveda, et als
), who agreed with Elias, and ordered a new trial.
At retrial in 1866 the court overturned the earlier decision, awarding Mr. Elias $15,955.02 plus 3 percent monthly interest, and other unknown land concessions unfavorable to the Verdugos.
The Verdugos accepted the first trial's decision, but bitterly disputed the second trial's decision. Another appeal and trial ensued (case
Elias v. Verdugo, et al
).
After six years of legal battles, the final judgement, filed on February 4, 1869*, awarded Mr. Elias $58,750 (the amount of the $3,445.34 loan, plus eight years of interest, fees, and other charges), and ordered the sheriff's foreclosure sale/auction on both ranchos. *(Los Angeles District Court case # 932,
Jacob Elias et al. vs. Julio Verdugo et al.
)
However, this final decree also carried a formal stipulation, filed one day earlier on February 3, 1969, which allowed Julio to retain ownership of his house and 200 acres of land.
Additional Verdugo family members, and a few non-family members who had bought or traded land from Julio and Catalina, were allowed to keep their portions of Rancho San Rafael.
The Great Partition Of 1871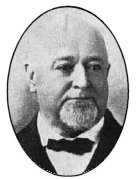 Sheriff James F. Burns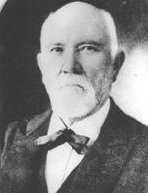 Alfred B. Chapman
At ten o'clock on March 8, 1869 Los Angeles County Sheriff James F. Burns conducted the foreclosure auction at the door of the city and county courthouse. Los Angeles law partners, Alfred B. Chapman and Andrew Glassell, purchased Julio's lands for the amount of the debt.
Chapman ceded to Grandpa Julio his 200 acres land and house, in compliance with the court order. This was not done out of pity for Julio, as many authors have erroneously stated.
In 1869 there were many individuals claiming ownership to multiple sections of Rancho San Rafael.
Demanding more security in terms of their holdings, Chapman, Glassell, Ozro W. Childs, and Prudent Beaudry filed a lawsuit against thirty-six separate defendants, including the Verdugo family, requesting land partitions be established for Rancho San Rafael with rightful legal ownership. Fernando Sepulveda defended Julio and Catalina's interests in the lawsuit (case filed under
A. B. Chapman et al. vs. Fernando Sepulveda)
.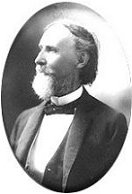 Andrew Glassell
On November 29, 1871 this court case established a landmark ruling known as the Great Partition of 1871, and became one of the most famous land trials in Southern California.
Ultimately, Rancho San Rafael was divided into thirty-one sections given to twenty-eight different people. Among the Verdugos receiving substantial apportionment of the land were:
- Julio Verdugo - 200 acres;
- Catalina and Teodoro Verdugo - 3,300 acres;
- Rafaela Verdugo de Sepulveda - 909.40 acres (present-day Cumberland Heights, Glendale; and
- Maria Sepulveda de Sanchez - 100 acres (Rafaela's stepdaughter).
(Other Verdugos received significantly smaller sections.)
Non-Verdugo family claimants sharing the partition included:
- Benjamin Dreyfus - 8,000 acres;
- David Burbank (purchased J. Scott's tract) - 4,607 acres;
- Prudent Beaudry - 1,702 acres;
- Captain Cameron E. Thom - 724 acres;
- Ozro W. Childs - unknown acres;
- Jesse D. Hunter - unknown acres; and
- Alfred B. Chapman and Andrew Glassell shared - 5,745 acres.
Catalina Verdugo's Adobe ca. 1911
The Remains Of Rancho San Rafael
Catalina died at her adobe in 1874.
It's rumored Grandpa Julio eventually lost his remaining 200 acres of Rancho San Rafael lands, again, to creditors.
It is said he lived the remainder of his life in his wife's adobe on the Portezuelo* section of Rancho San Rafael. It is possible Julio had transferred this adobe's ownership to his wife so as to retain a home to live in. He died at Portezuelo in 1876. *(Rancho Portezuelo, located to the west of Rancho San Rafael, once belonged to Julio's uncle, Mariano. He sold it to Mission San Fernando Rey in 1810, and upon mission dismantled in 1835, Rancho Portezuelo was most likely absorbed by Rancho San Rafael)
In 1882, years after the deaths of Julio and Catalina, the U.S. government finally issued a patent for Rancho San Rafael under the name
Julio Verdugo et. al.
, signed by President Chester A. Arthur. The patent process had taken
thirty years
to complete.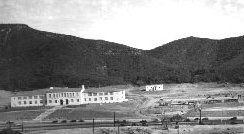 Glendale C.C., site of Teodoro's Adobe ca. 1937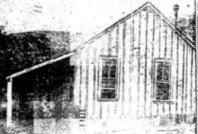 Teodoro Verdugo's Adobe 2 ca. 1904
Teodoro had built his own adobe, located about nine blocks south of Catalina's, on North Verdugo Road (the present site of Glendale Community College).
He owned 3,300 acres of Rancho San Rafael's land co-jointly with Catalina, and upon her death, gained full ownership of it.
Teodoro traded a good portion of his land for legal services in his subsequent many years of court battles with his Anglo neighbors over water rights.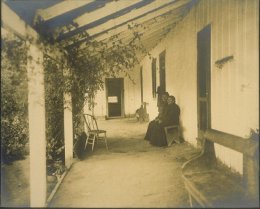 Teodoro Verdugo's Adobe 1 ca. 1904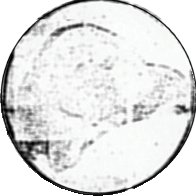 Only Photo Ever Taken of Teodoro V.
At His Wake, 1904
After Teodoro's death on June 2, 1904, the remaining 1,200 acres passed to his second wife and eight children.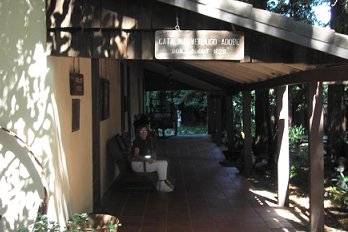 Julio's G.G. Granddaughter Mickey Schwald At Catalina's Adobe 2005

Dora Verdugo ca. 1931
Rancho San Rafael's lands continued to dwindle, with the last 126 acres passing to Teodoro's daughter, Isadora "Dora" Verdugo. She sold all but 6.5 acres and Catalina's adobe, which she retained for herself.
Sadly, Dora was forced to sell these last remnants of Rancho San Rafael during the Great Depression of the 1930's when unable to pay $25,000 in assessed land taxes.
The city of Glendale purchased the restored
Catalina Adobe
in the mid-1950's, ownership of which had changed hands a few times after being sold by Dora. Today it is a registered historic landmark located on Bonita Drive in northeastern Glendale.
Casa Verdugo Inn ca. Early 1900's

Rafaela Verdugo
Julio's daughter, Rafaela Verdugo and husband Fernando Sepulveda built their adobe on Rafaela's 909.40 acres of Rancho San Rafael's land. The adobe was located at the north end of Brand Blvd., Glendale.
In the early 1900's it was known as the
Casa Verdugo Inn
(later changed to the La Ramada), having been converted into a restaurant serving Mexican cuisine. It was a favorite destination for travelers from Los Angeles.
Unfortunately, it was torn down around 1915, and the site is marked only by the aged trees of the garden.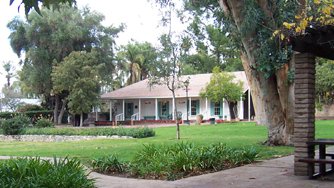 Casa Adobe De San Rafael And Park

Marie Sepulveda
Between 1772-75 Maria Sepulveda (stepdaughter of Rafaela, and daughter of Fernando Sepulveda and Maria Josefa Dominguez) and her husband, Los Angeles sheriff, Thomas Sanchez, built the
Casa Adobe de San Rafael
adobe on her 100 acres of Rancho San Rafael's land.
The city of Glendale also purchased and restored this adobe in the 1930's. It, too, is a registered historic landmark located on Dorothy Drive in Glendale, adjoining a city park bearing the same name.
In Tribute
We proudly honor our 4th Great Grandfather Jose Maria Verdugo, his son Julio and daughter Catalina for their courageous battles against man and nature, who attempted to deprive the them of their beloved Rancho San Rafael.
In tribute to Julio, the Highland Park Heritage Trust's
Our Cornerstone
newsletter of March/April 1996 acknowledged,
"Julio Verdugo... leaves us a legacy of a period of California history that is celebrated with romance and awe. His legacy of love for his land has left an indelible stamp upon each of the communities that have grown and flourished in what was once the Rancho San Rafael."